Six Tips To Help You Select The Perfect Artwork
Six Tips To Help You Select The Perfect Artwork For your home
Don't make the mistake of treating interior design art as an 'afterthought' within your design process. Artwork plays a key role in personalising any home and should be considered during the creative conceptualisation stage.
Not only does artwork provide an instant colour palette, but it can also add a perception of texture, create a strong visual impact and bring a sense of completion to a design.
So how do you pick the perfect interior design art and use it to elevate your interiors to new heights?
magnificent multiple print displays
A gallery of multiple prints adds contemporary, stylish flair to your interiors and acts as a key feature within the design.
Tip: Select artwork that follows the same style (ideally by the same artist) and display multiple prints in a linear arrangement.
Example:  For this contemporary house in Poole we have selected a series of monochrome prints.  They have been mounted in matching brushed metal frames and positioned equidistant from each other along an otherwise unadorned wall.  Each print is different and equally elegant in its simplicity, and a gallery they make a statement against the abundant white of the walls and floor.
colour repetition with clarity
A continuation of colour creates a strong impact within a room and adds depth to your design.
Tip: Repeat the same colour tones (they do not need to be exact, but similar) in both the artwork and the surrounding interiors. The more colours you repeat, the more robust the look will be.
Example: This apartment is set within Edinburgh's beautiful UNESCO World Heritage site and surrounded by 18 acres of private grounds. Therefore, nature is included as a subtle influence throughout the apartment, with layered textures of wools, leathers, linens and velvets. The large pieces of abstract artwork blend perfectly with the soft neutrals and emphasise the light, warm accent colours.
Establishing a colour contrast between artwork and surrounding interiors is a great way to add a pop of colour to your design.
Tip: You can choose to contrast either light and dark colours (including tones of the same colour) or you can contrast hues of colour (green/red, black/white, for example). The more extreme the proportions of contrasting colour (a space decorated predominantly in one selected shade and accented with just a touch of another colour), the more dominant they will be.
Example: The entertainment room at this West London development has a sophisticated, Hollywood/James Bond theme, but with some light-hearted touches.
To create a strong contrast with the black furniture, we selected monochrome "Skyfall" prints in stylish red and black mounts/frames. We positioned the prints strategically to complement the bold red and white accents of the cushions, popcorn and other accessories.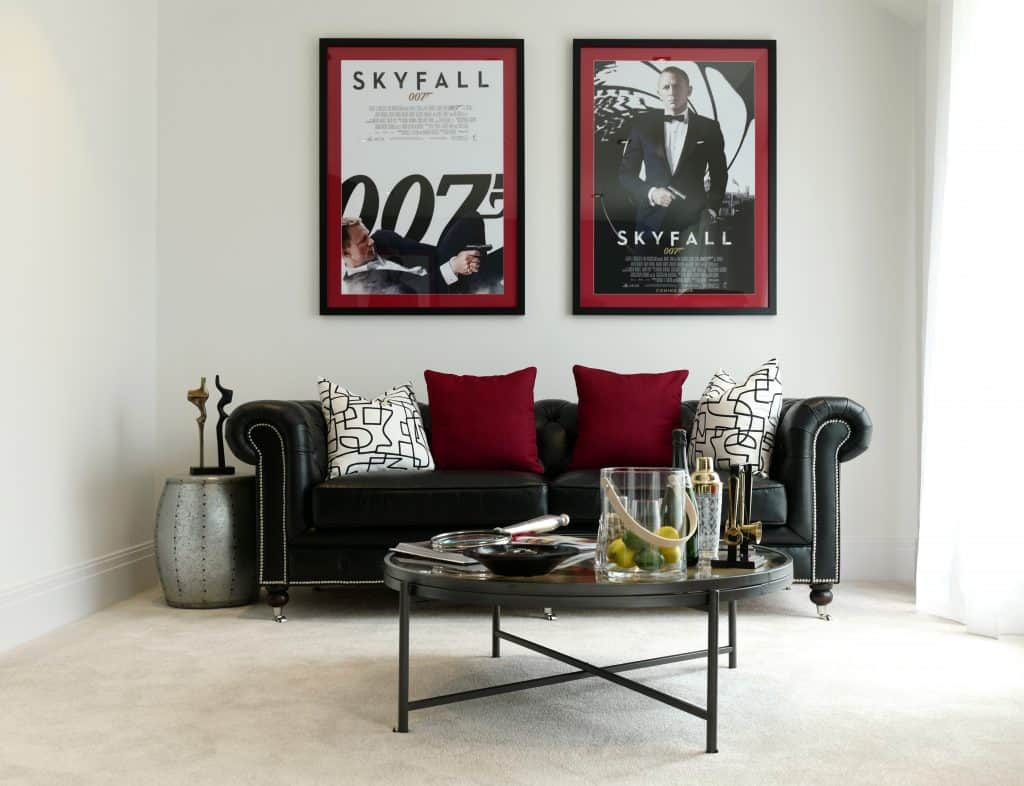 carefully considered furniture placement
The placement of furniture surrounding a piece of art is as important as the placement of the art.
Tip: Place your interior design art above a side table, bench, bed or sofa to maximise its emphasis within the design. Don't hang it too high, the centre of the image should always be eye-level.
Example: Here, in the entrance hall of his beautiful house we have placed oversized artwork above two bespoke benches. Therefore, on entering the house your eyes are drawn to the centre of the paintings (which are at eye level). The symmetrical flooring design on the floor and deceptively simple furniture styling give the space a calm and balanced feel.
prominent statement pieces
A key principle in interior design is that every room requires a focal point, a single element of design that instantly draws your eyes towards a point in the room. Artwork is a superb way of creating this essential focal point within your design.
Tip: Consider the size of your room and scale the size of your interior design art accordingly. Remember, the artwork must be large enough to make a statement within the room, if it is too small then it will be drowned out.
Example: This Surrey house radiates warmth and comfort, with its dark wallpaper, oversized plush sofa and rich warm toned accessories. Here, we have created a focal point in the room by placing a large statement piece of artwork above the sofa. This has the effect of "lifting" the brown walls, behind. The warm reds and dark blues of the artwork complement perfectly the dark metal furniture, luxuriously textured cushions, and accessories.
Balancing colours will instill a sense of harmony within your design and establish a calm ambience in the room.
Tip: Continue the colour tones of your interior design art into the surrounding furnishings in equal proportion.
Example: Here, we have included muted blues and warm pinks together with soft neutrals to create a restful serene bedroom. The selection of prints above the bed harmonises perfectly with the soft furnishings. Together they create a calm ambience that is the recipe for a good night's sleep!
If we can assist you incorporating some of these tips and ideas into your home, please feel free to get in touch.