Luxury Table Lamps To Create Spaces Of Splendour
14 Luxury Table Lamps To Create Spaces Of Splendour
Give your home an exclusive, luxury look with designer table lamps. Helping you to accent boldly with colour, bring glamour and charisma to a scheme, and to infuse any room with a cool air of sophistication, luxury table lamps can be used in a variety of ways to achieve the style you want.
Let us take you on a journey of inspiration through some of our favourite luxury table lamps, and how you can use them to add unique character to your rooms.
Evocative and utterly romantic, the floral bouquet chiaroscuro colourings of these Osborne & Little Palazzo Pellestrina fabric cushions are printed on velvet, the vivid red and burnt orange hues of the Heathfield Canyon lamp popping against the dark hues.
Part of their Signature collection, this luxury table lamp is inspired by ancient landscapes, with the ceramic glaze conjuring images of beautiful scorched rock – unique and striking.
Inspired by the stunning riverside location, we styled this bedroom with charismatic oars and nautical rope lamps, the wooden wallpaper print setting sailboat scenes.
This unique luxury table lamp catches the eye with its rustic rope twist stand and and contemporary linen-look shade, perfect for any coastal or nautical themed room, adding quirky style to your design.
We used Metaphor textured wallpaper in our bedroom design, the embossed feather detailing creating a bold backdrop for the delicate RV Astley Fairfield lamp in antique brass.
With an ornately symmetrical caged base and hexagonal detailing, this luxury table lamp oozes Art Deco charisma, perfectly complemented by the geometric style cream drum shade atop.
Two sophisticated 'Vienna' table lamps by RV Astley flank the edgy abstract art prints as they sit beautifully upon this Andrew Martin cabinet, the dark antique brass contrasting warmly with the organic tones of the wood.
This luxury table lamp makes a glamorous statement in any interior, the Art Deco style adding a touch of glamour.
Delicate and beautiful, this 'Droplet' designer table lamp by Porta Romana with an elegant neck of silver spun texture emits a cooling air as the bronze shade warms glimmers against the rich Brian Yates wallpaper behind.
These signature collection Clothilde ceramic lamps by Heathfield are boldly striking and intricately textured, the rich sorrel hues adding earthy tones to the metallic gold and brass around.
whimsical mid-Century curves
This Andrew Martin Agnes blown-glass lamp with mid-century curves and contemporary polished iron fittings sits atop the elegant Andrew Martin Hawk side table, adding a warm pop of rouge to our living room design.
Elongated, subtle hexagonal motifs adorn the design of these 'Pierre' Heathfield luxury table lamps, the monochromatic palette adding personality and contrasting boldly against the radiant Saddle Blanket cushion fabric by Mulberry.
contemporary muted mirror
Echoing the metallic brushstrokes of the abstract prints behind, these contemporary 'Laceby' designer table lamps by RV Astley are striking in their smudge mirror nickel effect, beautifully accompanied by the metallic accessories beside.
In the Orangery, this timeless Heathfield 'Rollo' luxury table lamp acts as the perfect addition to the light cream tones of the beautiful sofa, the antique brass adding a calming, classic elegance to the invigorating, bright accents of colour.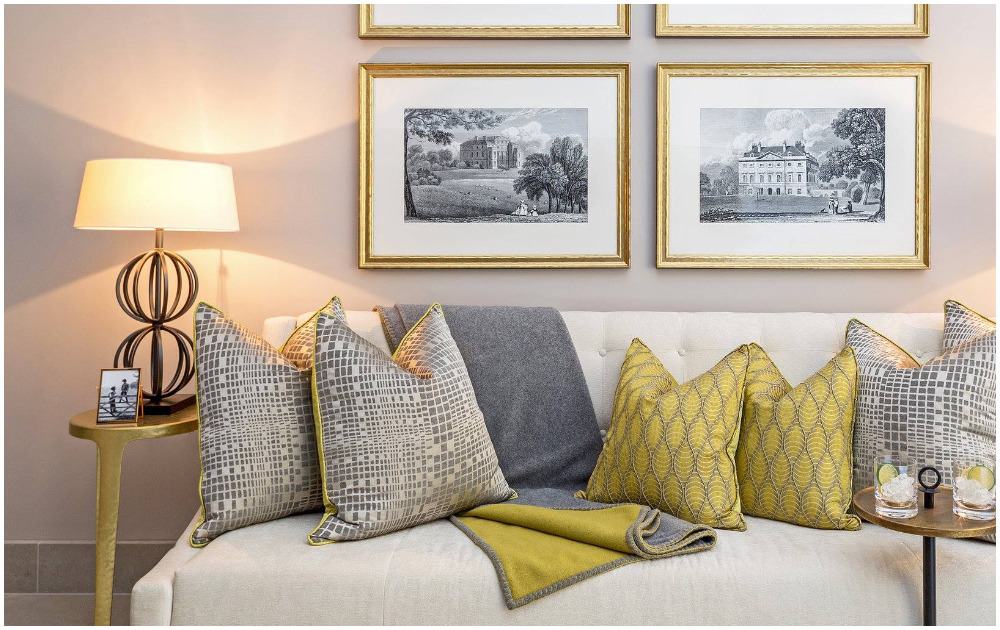 contemporary convivial character
The bold globe table lamps cast a convivial feeling of contemporary fun over our bedroom design, the purple glass shades complementing the bold colours within the abstract prints above and the carefully selected soft furnishing fabrics.
This ethereal 'Thread' lamp in charcoal by Porta Romana is made from delicate glass threading wrapped around a blown and moulded glass body, adding another layer of finesse to our elegant master bedroom design.
Free blown by master glassblowers, this stunning Heathfield Tortoiseshell blown glass effect 'Portia' luxury table lamp completes this stylish bedside arrangement, with geometric chunky yarn fabric cushions by Larsen.
silver blue blown bubbles
This bold sideboard in smoked ash is invigorated by the unique, 1960s-inspired Julian Chichester 'Escalante' glass table lamp with aged silver patina – hand blown by gifted artisans.
If we can assist you with incorporating luxury table lamps into your interiors, please feel free to get in touch.